Services
24/7 Answering Service: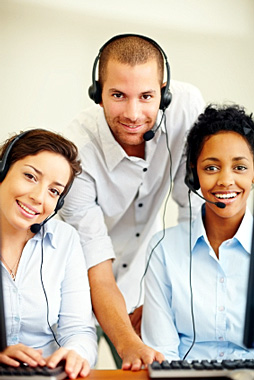 Enjoy the peace of mind that your patients can reach you in an emergency at any time day or night. All calls are answered in your practice's name with a personalized answer phrase. Operator collects the information that you requested and follows your established protocols. Each message is date and time stamped so you know exactly when your message was received and which operator took the call.

Message Dispatch:
Computerized dispatching ensures fast and accurate response to emergency calls. Choose from a variety of delivery options to simplify the delivery of your messages, save time and reduce your costs. Customize the service to fit your needs. Choose from any combination of fax, voice mail, pager and email.

Multi-lingual Service:
Physicians offers the same high-quality answering services to our non English-speaking customers through our affiliate offices or with our translation service partners. We can also record personalized answer phrases in a variety of foreign languages.

Voice Mailbox with or without Telephone Number Rental:
Interested in your own personal telephone number and voice mailbox that can be accessed from anywhere? This is the perfect answer for medical professionals with patients that want to leave confidential messages, temporary studies or even help wanted ads. Physicians voice mailboxes are easy-to-use, convenient and extremely affordable.

Automated Call Screening:
Saves money by reducing billable operator calls. Callers hear a scripted, customized message with consistent office information. Calls are answered on the first ring and callers always have the option to speak with an operator.

Fax or Email Delivery:
Receive a copy of each message with the time and date of the call. Avoid having to call the service and spend valuable time writing down messages. You determine the time for messages are delivered. Messages can be sent individually or grouped together in a single batch. Even choose the size of the font on faxes for easy reading!

Appointment Scheduling and Confirmation:
Physicians can provide web-based appointment scheduling and confirmation services. Free up your receptionist and secretary to concentrate on other parts of your practice. Phones may also be forwarded to us during peak calling times. This allows you to extend your office staff in an affordable way and ensures your patients will never have to hear a busy signal again.

Conference Calling:
Have access to multiple party conference calling without an up-front investment in costly equipment. This is a hassle-free service that does not require reservations, allowing you to quickly organize and participate in conference calls. We also offer you the ability to record a call for those who missed it or for your own archives.

Disaster Back-Up:
If an emergency occurred today, how would your practice respond? Would your patients be able to communicate with you? Physicians' disaster contingency services give you the peace of mind that you can stay connected to your patients even following a catastrophic event. Physicians' affiliation with the largest answering service in the United States provides a safety net and great flexibility in the event of widespread disruption of power or telephone services. In case of di saster at any one site, arrangements can be made to quickly answer the calls at an alternate location. No other call center in the country can match the redundancy of our network.

Pager Rental:
Physicians offers both alphanumeric and digital pager rentals. Enjoy the convenience of consolidating all your telecommunications needs onto one bill. We personally service all of our pagers, thereby eliminating the hassle of dealing with the customer service of the paging company.