Are you having trouble fielding all of your calls at your dentist office? An answering service that specializes in dental offices might be your solution. Whether you're looking for something during business hours, or after-hours, you can take your dental practice to the next level. How? Read more!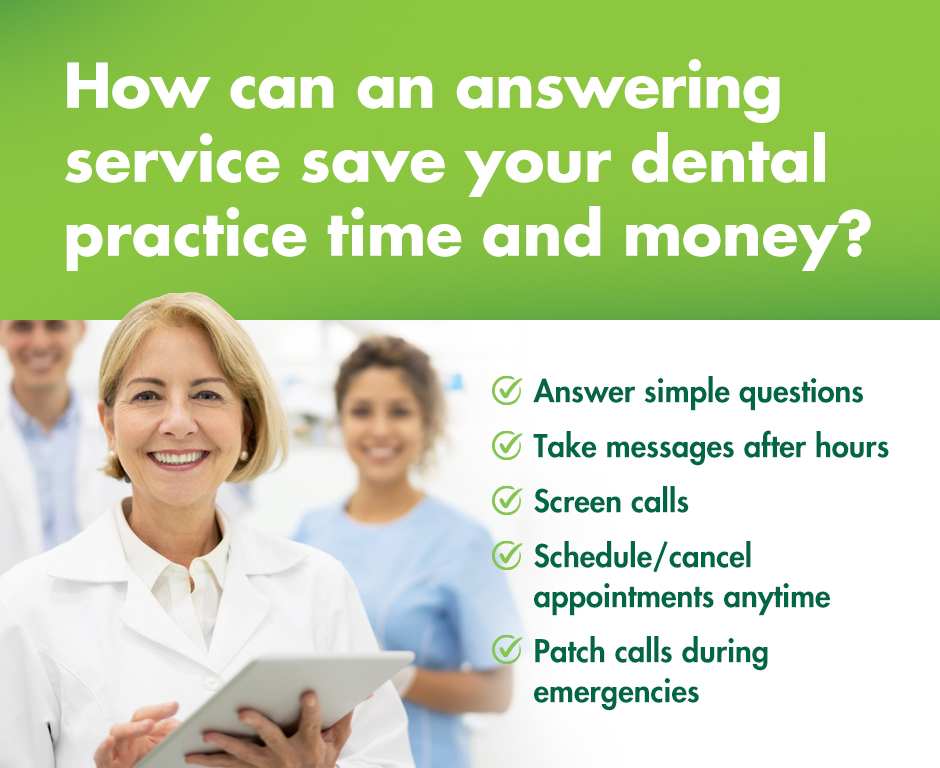 Our HIPAA-compliant staff can help schedule dental appointments and take calls to keep current customers happy, while fielding calls from new patients in a courteous, professional manner. We can:
Answer simple questions
Take messages
Screen calls
Schedule dentist appointments
Cancel dentist appointments
Patch calls during emergencies
…and manage other issues that might arise form scheduling a dentist appointment.
Did You Know: 84% of children aged 2-17 will have visited a dentist office in the past year
Does your dentist office phone never stop ringing? You could benefit from call overflow answering service for dentists during business hours or after-hours answering service. Many of your after-hour calls could be emergencies, or from prospective patients that will easily move on to the next option.
We offer customized solutions where you can forward your call to our office at the time and number of rings at your liking.
As much as adults care about the dentist experience for themselves, they're much tougher customers with their children. The majority of children will have visited a dentist office in the past year.
Being able to answer a phone call for dental emergencies could be the difference between gaining and losing a customer. Let Physicians Answering Service take the call 24/7.

Why Use An Answering Service For Your Dental Practice?
If your patients call after hours with an issue, they will feel much better about scheduling an appointment talking to a real person. A study in Forbes recently said that 80% of callers do not leave messages if they are sent to voicemail. Given that most after-hours callers are current patients for your dental practice, this could prompt them to consider elsewhere. Likewise, new patients are more likely to leave their current dental practice if you're available to answer their calls on nights and weekends.
For about half the price of other leading answering services for dentists, Physicians Answering Service for your dental practice can:
Booking and appointment confirmation
Call patching and forwarding
Taking messages
Providing standard information such as office hours and directions
Capturing patient information and other data entry
Pre- and post-appointment follow-up calls
Is A Dental After Hours Answering Service Right For You?
---
You Can Try Physician's Answering Service for FREE
Get a 14-Day FREE Trial to see why Physician's Answering Service is right for you. You'll find our costs are competitive compared to other answering services that don't have our specialty – caring is OUR calling!
No calling for quotes – just up-front pricing plans
Fast onboarding – as quick as 48 hours
24/7/365 supervisors on call
Experience in all fields related to medical
Courtesy and Professionalism
You get the best in care when you go with Physicians Answering Service for your hospice care. Each call is answered with the knowledge that a sensitive party may be on the other line. Consistency and accuracy are key if we are patching their call to your office. We are also 100% HIPAA Compliant! We can offer everything for your medical offices:
Message dispatch
Multi-lingual answering services
Voicemail and telephone number rentals
Automated call screening
Flexible message delivery via text, email or fax
Appointment scheduling and confirmation
Conference calling
Disaster backup
Save on Staffing Costs
We would be the first point of contact with your dentist patients. This would allow your office to totally focus on patient care while streamlining your office operations. Whether it's treatment plan presentations, to checking patients in or out.
This takes pressure off of your dentist office managers. We answer incoming phone calls for the offices to become an extension of your practice.
We schedule appointments and answer any general questions a patient might have live to minimize follow-up.
You won't need to hire a receptionist if you hire Physicians Answering Service. Likewise, if you have other employees subordinated to the task of answering calls, it allows them to focus more on more important aspects of their job.
HIPAA Compliant Medical Answering Services For Dentists
Our secure messaging platform, Startel® Secure Messaging, ensures top-of-the-line communication with the privacy your industry demands. This offers peace-of-mind knowing your information will remain confidential. From our client service portal, you can also access your calls in real time through:
Telephone
Email
Text Message
Your Practice Should Never Miss A Call
Physician's Answering Service is here 24/7/365, nights, weekends and holidays, and a supervisor with years of experience is always on the clock. If you're in need of customer support, our experts are ready to answer the call — caring is our calling!
"Rhea and I have traveled to help clients at a moment's notice when their call center was not going to be there for them any longer, which had left some of those places in an immediate crisis."
Our flexible and adaptive onboarding integrates to any medical offices seamlessly.
You can be up and running in as soon as two days. And there's never rush fees involved.
You'll have a dedicated account supervisor on the clock 24 hours a day, 7 days a week, so you'll always know who you're speaking with when you call for personalized support.
Your messages will be HIPAA compliant in all aspects — including our Startel Secure Messaging app.
Secure, off-site backup ensures your data is fully redundant and disaster-proof.
PAS has a specially-trained staff that practices accuracy, detail and consistency with each call and message sent.
Dependability and Efficiency
We have fully-redundant technology with off-site data storage to ensure your information is never compromised.
Is your call volume too high for your receptionist? If they are busy on the phone all day, you might not be getting the most out of what their job entails – filing away information, talking to patients, and supporting staff. Likewise, it can be very difficult to multi-task and enter correct information. Accuracy and efficiency is key when taking information for the medical industry.
PAS offers all the services you would expect from an industry leader at affordable, up-front pricing. We also offer services for doctor's offices and clinics, and hospices.
What Does Answering Service for Dentists Cost
---
PAS offers all the services you would expect from an industry leader at affordable, up-front pricing.
Intro Package – 50 minutes, $55/mo. – includes daily email, voicemail box, call logging, long distance, $.99/unit overages and a $9.95 holiday fee.
Bronze Package – 125 minutes, $99/mo. – includes daily email, voicemail box, call logging, long distance, $.98/unit overages and a $9.95 holiday fee.
Silver Package – 175 minutes, $165/mo. – includes daily email, voicemail box, call logging, long distance, $.95/unit overages and a $9.95 holiday fee.
Gold Package – 325 minutes, $300/mo. – includes daily email, voicemail box, call logging, long distance, $.90/unit overages and a $9.95 holiday fee.
Custom Packages Available!
Additional services/extras: $1.00 per patch. Daily Fax – $7.50/mo.; On-Call Schedule Maintenance – $25.00/mo.; Secure Messaging: $10.00 per smart phone/mo. One-time set-up fee is based on work time.
Do You Own or Manage A Small Business Outside the Medical Industry?
---
Just because you don't fit the traditional medical industry doesn't mean Physicians Answering Service can't serve you in the best way possible. We have experience servicing everything from funeral parlor operations to pet stores. Check out our sister companies, AnswerLive for small business and Gold Cross Answering Service!